Visiting Kuwait - A Travel Guide for First Timers
By Stella Tessa
Located in the Arabian Peninsula, Kuwait is a small but vibrant country known for its rich history, stunning architecture, and warm hospitality. Despite its size, Kuwait offers a wide range of attractions and activities for visitors to enjoy. From exploring ancient ruins to indulging in vibrant culture and cuisine, a trip to Kuwait promises an unforgettable experience. This travel guide aims to provide first-time travelers with essential information and tips to make the most of their journey for visiting Kuwait.
What Are Some Key Facts About Kuwait Before Visiting Kuwait?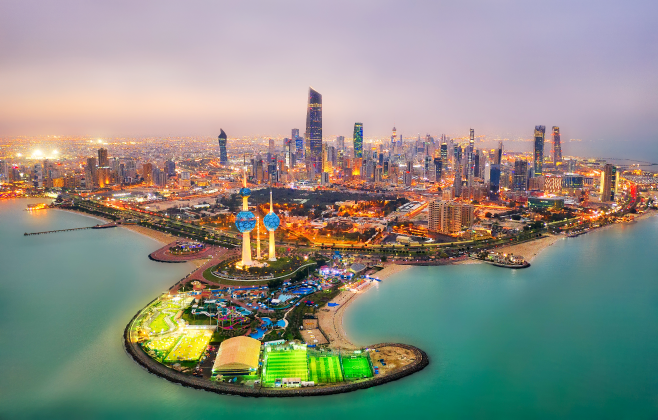 Kuwait is a must-see for all visitors
Before embarking on your journey to Kuwait, it's essential to familiarize yourself with some key facts about the country:
Geography: Kuwait shares borders with Iraq to the north and Saudi Arabia to the south and is situated on the northeastern edge of the Arabian Peninsula. The country is largely characterized by flat desert plains, with the Arabian Gulf to its east.
Climate: Kuwait experiences a desert climate with scorching summers and mild winters. Summers can be extremely hot, with temperatures reaching well above 40°C (104°F). It's advisable to plan outdoor activities during the cooler months, from November to March, when temperatures are more comfortable.
Language: Arabic is the official language of Kuwait. However, English is widely understood and spoken, especially in urban areas and tourist destinations. Most signs and menus are available in both Arabic and English.
Currency: The official currency of Kuwait is the Kuwaiti Dinar (KWD). It is one of the highest-valued currencies globally. ATMs and currency exchange facilities are readily available throughout the country.
Culture and Religion: Islam is the predominant religion in Kuwait, and the country follows conservative Islamic traditions. Respecting local customs and dressing modestly while visiting religious sites or public places is important. Alcohol consumption is illegal in public areas, although some hotels and licensed establishments serve alcohol to non-Muslim visitors.
What Do You Need to Travel To Kuwait?
Before traveling to Kuwait, it is important to ensure you have the necessary documents and preparations in place. Here are some essential requirements:
Passport: A valid passport is required to enter Kuwait. Ensure that your passport is valid for at least six months beyond your intended departure date.
Visa: Visitors from many countries, including the United States, United Kingdom, Canada, Australia, and most European Union nations, can obtain a visa upon arrival at Kuwait International Airport. This visa is typically valid for a stay of up to 90 days. However, it is advisable to check the visa requirements for your specific nationality before traveling. Alternatively, you can apply for a Kuwait evisa before your trip.
Health and Safety: Kuwait does not have any mandatory vaccination requirements for entry. However, it is recommended to be up to date on routine vaccinations such as measles, mumps, rubella (MMR), diphtheria, tetanus, pertussis (DTP), and influenza. Travelers should also consider travel insurance that covers medical expenses and emergency evacuation.
Transportation: Kuwait has a well-developed transportation system, including taxis, rental cars, and public buses. Taxis are a popular mode of transport, particularly for short distances. Make sure to ask the taxi driver to use the meter or negotiate a fare before starting the journey. Rental cars are available at the airport and in major cities, but be aware that traffic in Kuwait can be congested during peak hours.
Local Laws and Customs: Kuwait follows conservative Islamic traditions, and it is important to respect local customs and traditions while visiting. Dress modestly, especially when visiting religious sites or public places. Women should cover their shoulders and knees, while men should avoid wearing shorts in public. Public displays of affection are also best avoided. Alcohol consumption is illegal in public places, and it is prohibited to drink and drive.
Things to know before Kuwait trip
Best Things To Do in Kuwait
Kuwait offers a range of attractions and activities for visitors to enjoy. Here are some of the best things to do in Kuwait:
Liberation Tower (Kuwait)
One of the iconic landmarks of Kuwait City, the Liberation Tower offer panoramic views of the city and the Arabian Gulf. The main tower stands at 187 meters and houses a revolving restaurant, providing an unforgettable dining experience with stunning vistas. The tower complex also includes a maritime museum and a viewing sphere that offers a 360-degree view of the city.
Liberation Tower (Kuwait)
The Grand Mosque
The Grand Mosque, often referred to as Al-Masjid Al-Kabir, is a prominent religious and cultural landmark in Kuwait and is a spectacular example of Islamic architecture. The mosque's interior is exquisitely decorated, and its beautiful calligraphy can hold up to 10,000 worshipers. Outside of the times of prayer, non-Muslim tourists are welcomed to explore the mosque and take in its opulence.
Souq Al-Mubarakiya
Dive into the bustling atmosphere of Kuwait's oldest market, Souq Al-Mubarakiya. This traditional market is a treasure trove of sights, sounds, and scents. Explore the narrow alleys filled with shops selling spices, textiles, perfumes, traditional crafts, and an array of local products. Don't forget to try some traditional Kuwaiti cuisine at the food stalls and restaurants within the souq.
Sheikh Jaber Al-Ahmad Cultural Centre
The Sheikh Jaber Al-Ahmad Cultural Centre is a great place to get a taste of Kuwait's vibrant cultural scene. This cutting-edge facility is devoted to supporting Kuwaiti art and culture. It holds a variety of cultural events, including art exhibits, concerts, plays, and theater performances. With its striking geometric patterns and distinctive elements, the center's architectural design is in and of itself a piece of art.
Failaka Island
For a look into Kuwait's historic past, take a ferry from Kuwait City to Failaka Island in the Arabian Gulf. The Greek temple of Al-Zawr is among the island's many historic ruins and archaeological sites that date back to the Bronze Age. Enjoy the tranquil beaches and stunning scenery while exploring the island's historical relics.
Travel to Kuwait for a once-in-a-lifetime experience
Key Information to Keep in Mind When Visiting Kuwait
To ensure a smooth and enjoyable visit to Kuwait, keep the following key information in mind:
Dress Code
Kuwait follows conservative Islamic customs, and it is important to respect local dress codes. Dress modestly, especially when visiting religious sites or public places. Women should cover their shoulders and knees, and it is advisable to carry a scarf or shawl to cover the head when entering mosques.
Weather
Kuwait experiences extremely hot summers, with temperatures soaring above 40°C (104°F). It's essential to stay hydrated and wear loose, light-colored clothing to protect yourself from the scorching sun. Carry sunscreen, a hat, and sunglasses to shield yourself from the intense heat.
Ramadan
If you plan to visit during the holy month of Ramadan, be aware that it is a period of fasting and religious observance for Muslims. Respect local customs and traditions by refraining from eating, drinking, or smoking in public areas during daylight hours. Many restaurants and cafes are closed during the day but come alive with vibrant food offerings after sunset.
Shopping
Both traditional marketplaces and upscale retail centers can be found in Kuwait. Obtain traditional crafts, spices, fabrics, fragrances, and mementos by buying duty-free and visiting regional marketplaces like Souq Al-Mubarakiya. A variety of multinational brands, designer boutiques, and entertainment venues are available at major shopping complexes, including The Avenues.
Etiquette
Kuwaitis are known for their warm hospitality, and it is important to respect local customs and etiquette. When greeting people, offer a handshake and maintain eye contact while conversing. Avoid sensitive topics, such as politics or religion, unless initiated by locals. Public displays of affection are not customary and should be avoided.
Key Information to keep in mind when visiting Kuwait
Where To Stay in Kuwait During Your Kuwait Trip
Kuwait offers a variety of accommodation options to suit different budgets and preferences. Some popular areas to consider for your stay include:
Kuwait City
The capital city, Kuwait City, offers a range of luxury hotels, international chains, and boutique accommodations. It is an ideal base for exploring the city's attractions and landmarks, including the Kuwait Towers and Souq Al-Mubarakiya. The downtown area is bustling with shopping centers, restaurants, and cultural sites.
Salmiya
Located along the coast, Salmiya is known for its beautiful beaches and lively dining scene. It offers a mix of hotels and furnished apartments, making it a popular choice for both business and leisure travelers. The area also features a variety of shopping malls, waterfront promenades, and recreational parks.
Hawally
Hawally is a residential area that offers a quieter atmosphere while still being within easy reach of attractions. It has a range of mid-range hotels and serviced apartments, making it suitable for budget-conscious travelers. Hawally is known for its local markets, traditional eateries, and proximity to the scientific center and other attractions.
Unforgettable memories of your trip to Kuwait
Remember to book your accommodation in advance, especially during peak travel seasons, to ensure availability and secure the best rates.
Visiting Kuwait provides a unique blend of cultural experiences, historical landmarks, and warm hospitality. By familiarizing yourself with key facts about Kuwait, understanding the travel requirements, and knowing the best things to do and places to stay, you can ensure a memorable trip.
To make your travel experience even more convenient, consider using the Kuwait Immigration Services website to apply for your visa online. This streamlined process allows you to obtain your visa before your trip, saving you time and effort upon arrival. The website provides a user-friendly interface and detailed instructions, making it easy to navigate and complete your application. Additionally, applying for a visa online offers several benefits, such as faster processing times and the ability to track the status of your application.
Take advantage of the convenience and benefits offered by Kuwait Immigration Services and apply for your visa online today. Visit our website to begin your visa application process and embark on an unforgettable journey to Kuwait.
Apply for your Kuwait visa now and discover the beauty of this captivating country!
HOW CAN WE HELP?
NEED HELP 24/7
Wordwide phone support

How it works ?
APPLY WITH CONFIDENCE
Safety, Fastest, Reliable, Save Time.
Secure Online Payment.
5 Business Hours Guarantee.
No Hidden Fees and No Traps.
Money Back Guarantee if Declined.