Kuwait e-Visa Requirements For Singaporean Citizens
Kuwait e-Visa requirements for Singaporean citizens and the useful information about cost or how to get a Kuwait e-Visa for Singaporean citizens will be contained in this article.
Blessed with natural beauty, Kuwait is an ideal destination for travelers who wish to discover more Middle Eastern countries. Kuwait embodies a myriad of fascinating natural and artificial wonders. When traveling there, travelers have an opportunity to lie back on the gorgeous beaches and explore historical buildings, and mosques. The country offers various luxurious hotels and charming markets for the perfect vacation experience. In this article, Singaporean citizens will understanding better about Kuwait e-Visa, the visa requirements, as well as other associated services at Kuwait Immigration Services.
Kuwait e-Visa for Singaporean citizens
1. Kuwait e-Visa Requirements For Singaporean Citizens
Because Singapore is not on the exemption list for Kuwait visas, Singaporean passport holders are required to obtain a valid visa to travel to and enter Kuwait. Fortunately, the process of obtaining a visa for Kuwait is simplified thanks to the establishment of the electronic visa system. As a Singaporean citizen, you can take advantage of the Kuwait eVisa. This type of visa is valid for 1 month from the issued date, allowing Singaporean citizens to remain in the country for up to 90 days from the arrival date.
The Kuwait e-visa requires Singaporean citizens to fulfill specific documents as below:
The applicant's photograph (any size is acceptable)
A scan of the passport's biographical page. This passport is valid for at least 06 months from the date of arrival in Kuwait. There should be at least two blank pages in the passport for the immigration officer to stamp at the border.
Covid-19 Vaccine Card/ Certificate (if any)
Having a valid debit or credit card to make payments without getting out.
An email address is required.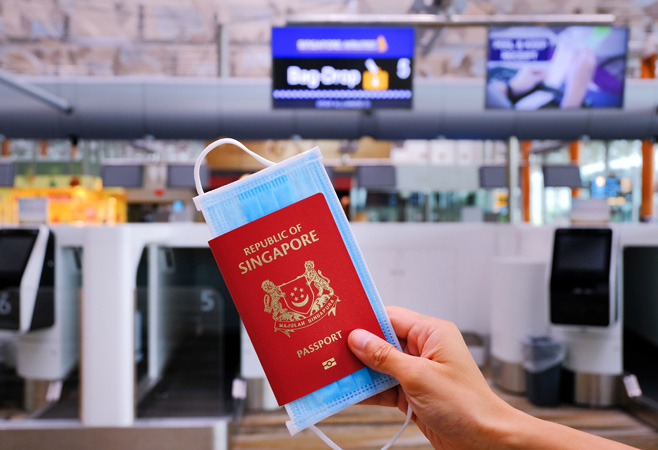 Kuwait e-Visa requirements for Singaporean citizens
2. How To Apply For Kuwait e-Visa From Singapore
The brand new online application system allows travelers to plan their trips as soon as possible. It takes Singaporean applicants about fifteen minutes to complete the visa application form, pay the visa fee, and submit some required documents. Singaporean citizens applying for Kuwait visas need to follow these four simple steps:
Step 1: Fill out the visa form with basic information. You will choose the type of e-visa you want and the processing time you need in this step. You will also be asked for your personal information and passport information.
Step 2: Once you complete the form, you must pay the e-Visa fee online. All that's left to do is check your email for any new information. Kuwait Immigration Services can require you to provide additional documentation in order for your Kuwait visa to be processed.
Step 3: A confirmation email stating that your e-Visa application has been received will now arrive in the mail.
Step 4: To be ready for your travel to Kuwait, please remember to download and print at least a copy of your Kuwait e-Visa. Your passport will be stamped if you have a valid e-Visa.
The typical processing time for a visa application is 03 business days. However, Singaporean citizens wishing to receive their visa sooner can choose the Rush visa service.
Please keep in mind that the Kuwaiti government has complete authority over whether or not your e-Visa request is approved. As a result, it is advisable that you submit the visa application as soon as possible before traveling to Kuwait.
Kuwait visa for Singaporean citizens
3. Applying For A Kuwait e-Visa From Singapore
When applying for a Kuwait visa online through Singapore, you need to pay two kinds of Kuwait e-Visa fees including a Kuwait visa service fee and a government fee.
The government fee is the amount you have to pay for the Kuwait Immigration Department to provide your visa. This is the mandatory fee for applicants who wish to apply for e-Visa.
The Service fee is charged based on the visa service you use. The sooner you want to receive a Kuwait visa, the higher fee you need to pay. The processing period you choose for your e-Visa application will influence the amount of service fee you must pay. When you compare prices, you can choose the most suitable option while staying within your budget.
Standard: For those who need an e-Visa/e-Visa within three business days. This is the most low-cost service for San Marino applicants.
Urgent: For those who need an e-Visa/e-Visa within 24 hours. A small extra fee is charged for this service.
Super Urgent: For those who need an e-Visa/e-Visa in less than 05 business hours. As a result, this is the fastest option as well as the most costly service.
Payment method: You can make electronic transactions or wire transfers. To complete your payment, you may choose from a variety of payment units, such as Visa, Mastercard, or PayPal.
Singaporean tourists are advised to buy Kuwaiti health travel insurance before their trip. In addition to your benefits, Kuwait travel insurancecan help the government process your visa application easier. Therefore, Kuwait's health travel insurance is strongly recommended to ensure a fun and safe journey.
Kuwait E-sim service is also extremely beneficial for your trip. It can assist you in remaining connected and informed throughout your journey.
The Embassy of Kuwait in Singapore:
If you register with the Kuwaiti Embassy in Singapore, the Kingdom of Kuwait will have access to the information that you have provided about yourself. The Kuwaiti Embassy in Singapore extends a warm welcome to tourists traveling from other countries as well as tourists from Singapore who are visiting Kuwait temporarily.
HOW CAN WE HELP?
NEED HELP 24/7
Wordwide phone support

How it works ?
APPLY WITH CONFIDENCE
Safety, Fastest, Reliable, Save Time.
Secure Online Payment.
5 Business Hours Guarantee.
No Hidden Fees and No Traps.
Money Back Guarantee if Declined.